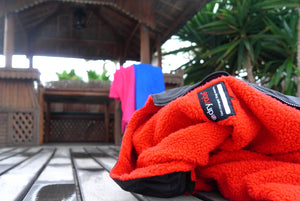 7 Essential Reasons to Get a dryrobe
by Evan Pepris
Here comes Michael Phelps walking into the Obstacle Course Race (OCR) venue, wait a minute, nope that's just one of the rising number of OCR athletes sporting a dryrobe.  The dryrobe is a functional piece of kit not just for OCR athletes but for anyone looking for a great piece of clothing for use in a variety of outdoor environments.  While I was hesitant to pick one up initially, it has now become an essential part of not only my race kit but also my travel supplies.  Here are seven reasons you need one (and probably don't realize it yet).  
1. For use in warm weather:  Why would you need a dryrobe when it is 90 degrees out?  The answer is because it is a portable changing room.  Need to change after spending the day at the beach?  Problem solved.  Finished your race and need to change out of your muddy clothes to drive home?  Put on the dryrobe and you can literally change in the middle of a crowded post-race area without going to jail.  #winning #notarrested
 2. For use while camping or as a member of the pit crew:  The dryrobe not only is great for athletes and support personnel in pit crews as a jacket but also doubles as a sleeping bag.  Instead of packing a jacket and a sleeping bag, just pack a dryrobe.  It actually saves overall space by being a jacket, rain jacket and sleeping bag all in one.
 3. For use at any water event:  Whether you are big wave surfing, racing Ultra-OCR, adventure racing, doing a triathlon or maybe doing something crazy unique like Neptune's Steps ("uphill" swimming OCR), the dryrobe will be there for you.  Not an athlete?  Then you are going to want one in your car after spending at day at the beach or lake.  There is a reason their favorite hashtags are #GetChanged and #StayWarm.
 4. For use at any rainy race or any rainy day:  Nothing is better than standing in the pouring rain completely dry as all your competitors are getting drenched.  I recently had my dryrobe at Australia's True Grit Enduro 24 where it was raining hard before the event.  I stayed in my dryrobe and started the event bone dry, which helped keep me warm for the beginning of the race.  Furthermore, when the race was over the first thing I put on was my custom dryrobe (yes, they do custom logos on the front and back for a little extra).  
 5. For use at any relay event:  I did two relays this year where the dryrobe was crucial, a 24 hour Terrain Race OCR relay and a Ragnar Relay.  Being able to stand around waiting for my turn ready to go but staying warm was absolutely great.  Then, as it was my turn to run, I would simply drop the dryrobe and take off.  No messing with anything, just fast, efficient and smooth.  Furthermore, when I finished my relay legs and it was time to go to sleep, I simply put on the dryrobe, walked to an empty patch of grass and fell over.  Boom…instant sleeping bag.
 6. For use at any ultra-event:  If you have ever done an ultra-event that runs through the night, whether it is a 24 hour OCR, a 100 mile trail run, an adventure race or an 8 hour Toughest Mudder, you may find that you have trouble regulating your body temperature after the event.  The extremes of exposure, physical exertion and change in weather leaves your body in a poor state.   I guarantee if you put on a dryrobe after just one event, it will immediately be worth the price you paid.
 7. Fashion Statement:  Let's be realistic…I know nothing about fashion.  I'm an athlete and my idea of nice clothes is my favorite race t-shirt and my most comfortable warm up pants.  However, I have never received so many compliments and requests for where to get a piece of clothing as when I wear my dryrobe.  While personally the dryrobe wins me over for function, people also love the way it looks.
There are seven strong reasons dryrobe is an essential piece of gear.  Dryrobe continues to be a great gift for any athlete or someone who spends time outdoors.  Pick one up today for yourself or knock out all your birthday, Christmas or Anniversary shopping with one purchase.  
If you want to read about my initial review of the product I did for Mud Run Guide, where I describe wearing a dryrobe as "
Being Hugged by a Care Bear
", click on the link to read more.