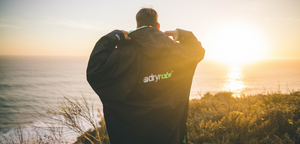 So what does veganism have to do with dryrobe? - World Vegan Day
World vegan day 
Yes November the 1st is World vegan day. So what does veganism have to do with dryrobe? To be honest we have never marketed ourself as a vegan company or pushed any agenda outside promoting an active outdoor life, but on a day like world vegan day, it's a good time to take a minute to think about the way we live, and how we can all make more efficient and compassionate decisions in our everyday lives. 
The link between our interest in promoting the #dryrobeterritory 'healthy, active, outdoor lifestyle' & concern for our environment is obvious. Information about how meat and dairy consumption is affecting our environment and our future is impossible to ignore. Going meat free is a great way to reduce your carbon footprint. World Vegan Day is a strong l reminder of just how far the movement as come, and in relatively short time the term vegan is only seventy years old. 
No other lifestyle choice has a more positive impact on the planet than choosing to stop eating animals and dairy products. Do what you can do, as well as you can do it, everyday.
So what are we doing? As dryrobe develops and grows, as a company, we are always actively promoting spending more time outdoors along with developing our products which make the experience better. At the same time we also try to minimise our impact on the planet by implementing continuous improvement to what we do & how we do it. We continue to educate ourselves & live the lifestyles we choose.
The dryrobe advance product is made from a nylon waterproof & windproof outer shell fabric and our lining is a completely synthetic lambswool. We have introduced greener plastic bags into our packaging, and are currently working towards changing our outer packaging from plastic bags to cardboard boxes, which hopefully will make it into the recycling after orders have been received. There's always room for improvement and it's work that is ongoing and high on our agenda.
From the point of view of performance benefits of adopting a vegan lifestyle, we thought we would get some advice from a couple of our heroes. 
Tim Shieff
One of the best known and most successful athletes in freerunning and parkour, in 2009 he was the World Champion after winning the Barclaycard World Freerun Championship and in 2015 he entered Ninja Warrior UK and was the only person to complete the second course in the final. We asked Tim about what he thinks about his dryrobe and what training on a vegan diet is like.
"dryrobe has given me the confidence to attack my training sessions and races knowing that comfort is just beyond the finish line and that I won't have to go through wasted minutes of freezing once the session/race is over!

I would recommend vegan diet for anyone involved in racing as it's a more efficient fuel source for the body, keeps you light and strong and helps improve recovery also!"

 
Luke Tyburski
Another one of our heroes is Luke Tyburski, the ultimate endurance athlete who has just finished a world tour promoting his new film, documenting the ultimate triathlon. An epic 12-day, 2,000km journey from Morocco to Monaco. We got in touch with Luke to ask him on his thoughts about dryrobe and how he completed his journey from Morocco to Monaco on a vegan diet. Again we asked for a comment on how dryrobe helps with performance & what effect a plant based diet has on his performance & recovery.
"A dryrobe is one of those pieces of kit that you think you don't need, or will even use all that often, until the day you to try it, then you're hooked!

I started using my dryrobe to keep me warm and dry before the start of many ultra-marathon running races. Pre dawn up in the mountains can get quite cold, so having something that's quick and simply to put on over my entire race kit is essential to stay comfortable, and start my races in a positive frame of mind.

I now use both (yes, somehow they multiplied) my dryrobes during my endurance adventures to keep me warm, as well as pre and post challenges that I put myself through. They have come in handy on more than one occasion as a blanket at random times as well.

When you use a dryrobe for the very first time, you'll not only fall in love with this fantastic, versatile piece of kit, but never want to take it off!
During my 2000 km in 12 day Ultimate Triathlon from Morocco to Monaco, both myself and my crew ate primarily a Vegan diet. This way of eating not only fuelled my 16 hour days in the saddle or running, but also gave me the nutrients, and minerals that my body needed to recover, so I could wake up the next day feeling fresh, and ready to do it all over again."

Here's a link to Luke's film, definitely worth a watch
You might have guessed, this is an issue we are more than interested in and there is a wealth of information readily available. We have two recommended video's for your viewing pleasure, leave us a comment and tell us what you think. Yes they will take an hour or so of your time but you will hard pushed to spend your viewing time on anything more interesting or as important.
It really shouldn't be beyond expectation to live in a World where changes happen fast.