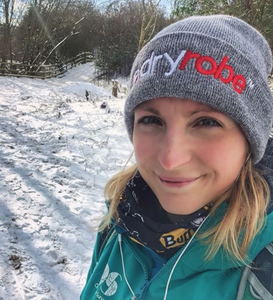 Winter Essentials with Laura Kennington
 With some seriously cold, wintery weather recently in the UK, it's easy to forget that this time of year is still an amazing time to get outside, explore and enjoy the outdoors. We recently caught up with adventure athlete and dryrobe ambassador Laura Kennington for her top tips when it comes to cold weather expeditions.
As winter creeps in, the urge to hibernate away in the warm can often sneak in with it. It's easy to be adventurous in summer, in winter you have to brave the elements!
Camping can be a pretty character building (read: totally miserable) way to spend a winter evening if you're not adequately prepared. There are some people that seem to have developed an innate, grizzly resistance to the cold and they relish in frost whilst wearing a t-shirt — I'm definitely not one of them. Nonetheless, I do love cold adventures — there is something really special about a crisp, fresh winter morning and it's definitely worth the effort. The hot chocolate feels more deserved, the porridge tastes better and the sleeping bag feels that much cosier.
Below are my very simple recommendations for making your winter night out more comfortable.
Silk Liner
This goes in the sleeping bag and if there was ever a perfect example of something tiny making a very big difference, it's the silk liner. These pack down incredibly small, weigh next to nothing and, as well as adding an extra layer of warmth, they keep your sleeping bag clean.
If you don't yet have a 4 season sleeping bag then I'd also suggest doubling up with 2 sleeping bags — a warm camper is a happy camper!

Clothing
A good woolly hat, a Buff, thick socks, a down jacket and fleece trousers are my top suggestions in this department — it seems to be a winning combination. If it's really cold then I add base layers underneath and these certainly make a huge difference. 
Another winter adventure essential - I'll also bring along my fleecey happy place — aka my dryrobe!
Camping Mat
I learnt this one the hard way. I distinctly remember the first time I went camping in winter — I was clueless and had a really thin mat — the sort that you'd find in a yoga class. It was a long, horrible night and wearing every bit of clothing I had with me did absolutely nothing to keep out the ground chill. Next up, I tried a basic inflating mat — that was pretty good and totally fit for purpose for most of the year. The real game changer though was when I invested in my Women's Therm-a-rest NeoAir XLite after hearing some multiple rave reviews– money very, very well spent.
Hot Chocolate/ Tea/ Coffee
If you're one of those grizzly tough sorts that I mentioned above then you won't need a hot drink because you laugh in the face of cold! I, however, would swear by the morale boost of a cup of hot chocolate before bedtime and a hot tea in the morning.
How will you earn your hot chocolate this winter?