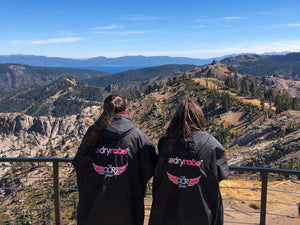 The OCR Girls Take On Spartan World Championships
The 2018 Spartan World Championships were one for the history books. An epic weekend of racing went down in the mountains of Squaw Valley, Lake Tahoe, CA and it was incredible to be there and be a part of it. We spent a lot of time catching up with friends from the OCR community as well as supporting our awesome ambassadors - including two absolute legends; Amelia and Evie from The OCR Girls.
The girls are no strangers to Spartan races - they regularly compete together in the UK and between them have a solid collection of podium finishes! This year was their first trip to compete at the World Championships - an entirely new challenge in itself.
Not only would they be taking on the Championship Beast course - 13.5 miles, 4,000 feet of ascent and over 30 signature Spartan obstacles - but the race also takes place at elevation (5,000 feet of it) which adds a whole new element to the race when you're used to training and racing at sea level.
The girls took it all in their stride though, completely smashing the course in style - with Evie also claiming 2nd place in her age group - epic! Finishing that course was an incredible achievement for anyone, and for Amelia and Evie to do it at the age of 16 and 13 shows just how hard they'd trained for this and what bright futures they have ahead of them.
 After finishing the championship race (plus some well-earned rest) the girls also had the opportunity to meet and spend time with one of their heroes and a legend of the sport of OCR - 4x World Champion Amelia Boone. Plenty of words of wisdom shared plus advice given to help the girls continue to develop in their OCR careers!
As if that wasn't quite enough - the girls then met the 2018 Spartan World Champion (and now 2x World Champion) Lindsay Webster - fresh from crushing the Women's Team Race with Team Canada. We're pretty sure Evie hasn't actually stopped smiling after meeting Lindsay...
An epic experience for both the girls across the whole weekend - we know they've made some incredible memories and learnt some lessons that will last a lifetime. We couldn't be prouder of Amelia and Evie - they're awesome ambassadors for dryrobe, the UK and for the whole sport.