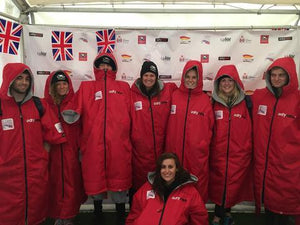 The lifesaving World Championships - rescue 2016
dryrobe® are proud kit suppliers to Team GB and Team USA  (USLA National Team) when they attend the lifesaving World Championships which will take place from the 1st to 18th September 2016 in the city of Eindhoven and Noordwijk, in the Netherlands.
We also know that many other competitors from around the globe will be packing dryrobes for this event.
The dryrobe has become a very popular and almost essential piece of kit for the surf lifesaving community since they started being used back in 2011.
We attend many surf lifesaving events & they don't get any bigger than this.
The lifesaving World Championships - rescue 2016, Ocean & pool competitions are on the programme for National Teams, Inter-club Teams, Masters, Surfboat teams and IRB Teams.
The competition will be fierce between the competitors when competing at a national level. We are so proud to be involved, providing kit to keep competitors warm between heats and after events.
The International Lifesaving Federation (ILS) is the world authority in the global effort to prevent drowning and works with national lifesaving organisations to improve drowning prevention, water safety, water rescue, lifesaving, lifeguarding and lifesaving sport. ILS is a non-profit, non-political, non-religious, worldwide lifesaving sport and humanitarian organisation.
The International Federation was established in 1910 and is now representing over 30 million lifesavers and lifeguards in over 130 countries. They all have one objective: the preservation of human life in the aquatic environment. Sports competitions are organised under the motto 'fit to save a life'.
The above information & the video are courtesy of: http://www.lifesaving2016.com/