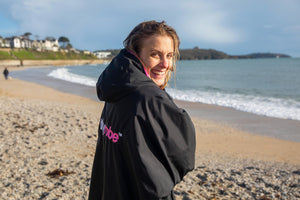 Sophie Hellyer - dryrobe Ambassador
We're stoked to announce that Sophie Hellyer is joining the dryrobe team as an ambassador. As well as being a surfer, writer, producer, yoga teacher and cold water swimmer, Sophie is a passionate advocate for protecting the environment and we can't wait for her to be involved in our sustainability journey.
Growing up just around the corner from dryrobe HQ in North Devon, Sophie is a former professional surfer who by 15 had won junior national titles and was traveling the world sponsored by global surf brands. After a decade on the circuit, Sophie decided to forge her own path - fostering a diverse and inclusive surfing culture, and has become a prominent voice on the topics of ocean pollution and sustainability.
Sophie created the #RiseFierce movement to inspire women to try cold-water swimming, to promote body-neutrality and to improve mental and physical health. What started out as a few friends getting in the sea has now become a community of women across the world supporting and motivating each other to embrace the cold and take the plunge together.
Outspoken and honest, Sophie has written passionately about feminist and environmental issues for publications including The Independent, GQ Magazine, Glamour Magazine, and Surf Girl.
Speaking about the new partnership with dryrobe, Sophie said:
"I began cold water swimming regularly a few years ago, and I've used my dryrobe religiously since, confident with the knowledge that I never get cold when wearing it. I'm excited to be joining the dryrobe team on their journey at a time where sustainability is becoming a key focus, and I'm eager to see what developments the new sustainability manager brings about to make the product and processes more environmentally friendly. The future of the dryrobe is looking green!"
Gideon Bright, Founder and Director of dryrobe added:
"We're all really excited to be working with Sophie, not only does she share our passion for the ocean, but Sophie is keen to help us on our journey to make our products and processes more sustainable. The campaigning and community building that Sophie does is truly inspiring and we're proud to have her on our team."
Watch this space for some awesome collaborations between Sophie and dryrobe this year.
Follow Sophie:
Instagram: @sophiehellyer
Facebook: Sophie Louise Hellyer
Twitter: @sophiehellyer
sophiehellyer.com
Photos courtesy of Jonny Weeks

#dryrobeterritory