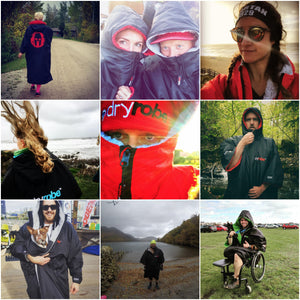 Show us your #dryrobeterritory
Another awesome weekend gone and we've been catching up on the epic stuff that you've all been up to. This seriously is one of our favourite things to do - the community of dryrobe lovers out there get up to some incredible things and we love to hear all about it! dryrobe was created to make time spent outdoors more enjoyable - it's awesome to see it do just that.
Please keep sending us your photos! You can tag us @dryrobe or use the hashtags #dryrobe or #dryrobeterritory - it might be your photo that we feature!
"Prepared for battle... #dryrobe #essentials @spartanrace #letsdothis #thisgirlcan" 📷  @spartansoz
"Feeling like Eskimos at work #endofseason #london #wakeboarding #evenings #winteriscoming #dryrobe #wakeupdocklands #eskimo" 📷  @kirraharvey_
"Short visit to the beach after the races 🇳🇱  #spartanrace #spartanraceamsterdam" 📷  @ira_the_spartan
"Embracing #stormbrian #woolacombe #lovewhereyoulive" 📷  @charmerro
"Don't be fooled by the sun rays, post-swim this morning was a double #dryrobeterritory affair 😀💨☀️❄️ " 📷  @belgokatia
"@dryrobe to the rescue after a run in the woods and rivers!" 📷  @ocr4charity
"Chilly Autumn sets @wakeupdocklands" 📷  @watsondc
"#dryrobe keeps the wind out! #stormbrian #keepswimming# 📷  @lottiethompson
"The Great South Run is all complete! Finished 10 miles in well under 2 hours and very happy, especially considering I hadn't used my wheelchair in months, prior to my recent surgery." 📷  @jamieganethrower
Massive thank you to everyone sharing their photos - keep up the awesome work guys!