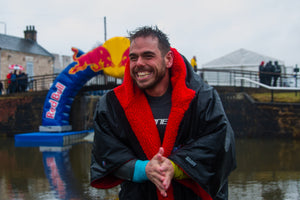 Ross Edgley is taking on The Great British Swim
Starting on June 1, Ross Edgley - athlete adventurer, strongman swimmer, sports scientist and all round legend is setting out to make history by swimming around the entire coastline of mainland Great Britain in a record breaking swim that will take 100 days and won't see Ross step on land for the entirety of it. Here at dryrobe we've been big fans of Ross and his adventures for a long time and are very proud to be supporting him as he takes on this epic challenge.

The Great British Swim starts in Margate Harbour and is scheduled to end under the iconic landmark of London's Tower Bridge. Along the way, Ross will battle some of the fiercest tides in the world around the British coastline, transit some of the worlds busiest shipping lanes; and attempt to complete a huge 30-50km swim per day. During the colossal swim, Ross will not step a single foot on land, stopping only on a support boat where he will eat, sleep and then wait for the right time to dive in again.

Teaming up with Red Bull Media House, the longest circumnavigation island swim in the world will be captured in weekly five minute vlogs which viewers will be able to watch on the Red Bull YouTube channel every Thursday over the next 100 days. The first episode is available this Thursday 31st May as Ross gets ready to embark on this epic adventure.

Swimming further than the English Channel every day, for 100 days and consuming over 1.5 million calories, Ross will have to battle stinging jellyfish, negotiate encounters with killer whales, endure freezing-cold waters and achieve the small task of completing up to 40,000 strokes a day to finish this challenge. To put his effort into perspective; only one man has swum from the most southerly point of Britain in Land's End, to the most northerly
point in John o' Groats… and that's just half of what Ross is expected to do.

No stranger to a challenge of gargantuan proportions, Ross has already completed a series of feats designed to push the human body to its absolute limits – including a marathon whilst pulling a Mini, climbing a rope to the height of Mount Everest and a Triathlon whilst hauling a 45kg log on his back. However, The Great British Swim is set to be his most gruelling physical and mental test to date.
Speaking about the challenge, Ross said:
"Without question, this is the toughest thing I have ever done, but at the same time it's also the most unique and exciting. Alongside Red Bull, I want to re-write the rules in terms of what is physically possible for human endurance and inspire others to push themselves beyond what they thought possible. People may look at this and think why? But I look at it and just think, if I complete it, it could be the greatest achievement of my life."

To watch how Ross gets on during The Great British Swim, head to
https://www.youtube.com/user/redbull
To follow The Great British Swim, and for additional information:
RedBull.co.uk/GreatBritishSwim