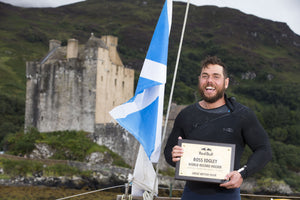 Ross Edgley Sets New World Record!
That man Ross Edgley has reached another amazing point in his Great British Swim after beating the world record for the Longest Assisted Contiguous Stage Sea Swim with a wetsuit but no fins or hand paddles. Here's all you need to know:


Ross started in Margate on June 1 and has overcome some epic obstacles such as the summer heatwave, jellyfish stings and tongue disintegration to round Land's End and head up past Wales.


He broke Benoît Lecomte's 1998 Longest Contiguous Stage Sea Swim world record after his 74th day in the choppy seas with more than 1,000 miles in six-hour daily stints seeing him past the halfway mark.


The 32-year-old has not set foot on land on his journey in English, Welsh, Irish and Scottish waters with his magical moment happening around the Inner Hebrides on the West Coast of Scotland.


The record will be officially verified by WOWSA (World Open Water Swimming Association) when Edgley finishes his swim and steps on land. 


Ross can now return to his original quest to become the first person in history to swim around the entire British mainland while consuming an incredible diet of 15,000 calories per day.



Ross revealed: "I feel an immense sense of pride, both for myself and the team – 74 days at sea is obviously no easy feat! Scotland represented such an important point. It meant we stood a chance of getting round John O'Groats, and back down the other side before the British summer ends and the winter really kicks in. I've been brought cake, whiskey - everything you can imagine really. However, we set out to circumnavigate Great Britain and create history, so we won't be stopping until we achieve that."


You can track Ross's progress and watch his weekly vlogs from The Great British Swim on the Red Bull website HERE
All photos courtesy of Red Bull Content Pool / Harvey Gibson / Jeff Holmes