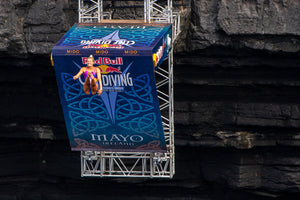 Red Bull Cliff Diving World Series 2021 - Ireland
The rugged west coast of Ireland is as beautiful as it is brutal. The breathtaking coastline around Downpatrick Head in County Mayo typifies this, with the cold waves of the North Atlantic crashing relentlessly against stunning sheer cliff faces. Not the sort of place you'd usually expect to find an elite high diving competition, but that's what makes the Red Bull Cliff World Series so exhilarating! For the fourth stop on the championship, 24 of the world's best cliff divers headed to the edge of Ireland to battle it out.
The competitors are made up of 16 divers (8 men and 8 women) who are permanent fixtures on the 2021 World Series Tour and they're joined at each stop by 8 wild card competitors (4 men and 4 women). Each stop on the tour sees four rounds of diving, with each dive counting towards the total score. The scores from each stop get added together and the diver with most becoming the World Champion.

The heights that these fearless athletes jump from are vertigo-inducing, with the women diving from a launchpad 20 metres above the sea and the men 27 metres. To put that into context, nearly three times the height of an Olympic diving board!

This is the fifth time since 2012 that the tour has stopped in Ireland and the first time that it's taken place at Downpatrick Head. The divers arrived earlier in the week to a warm Irish reception from their hosts. US diver Ellie Smart loves coming to Ireland to compete:
"My first competition was in Inishmore, so Ireland holds a special place in my heart. Every time we come here it's just the warmest welcome, everyone is so nice and so excited. It's the best feeling for us because not that many people know about our sport, so when you come here and see the crowds like today it's incredible!"
The day before the event kicked off, the Clean Cliffs project founded by Ellie and her partner, fellow diver Owen Weymouth, organised a beach clean on nearby Ballycastle Beach. Local students, volunteers and divers from the event got involved and helped out. Ellie spoke to us about the project:
"I started Clean Cliffs in 2017 with my partner Owen Weymouth. As we were travelling around the world diving, we noticed the same problem at every location - plastic pollution. Everywhere around the world you see this, I was diving in the ocean in Greece and came up with a plastic bag around my ankle - you never would have thought it was there below the surface level.

When I started diving professionally, I wanted to do it for something bigger than myself and just winning a medal, so Clean Cliffs has been our way of giving back, and having a bigger purpose to the whole thing.

We did a clean up here in Ireland and it was actually very clean which was great to see! But it doesn't matter where in the world you are, there is trash that washes up and it comes from everywhere. It was great to get the local community involved and give back, because this place is absolutely incredible and we're so grateful to have the opportunity to dive here!"


Find out more about the Clean Cliffs Project.
Downpatrick Head is a very different location from the other stops on the Red Bull Cliff Diving World Series, serving up some difficult conditions that make it challenging for even some of the most experienced divers. We asked 19-year-old British Diver
Aidan Heslop
what the conditions are like here compared to other stops on the series:
"There are a lot of different challenges here. It's one of the coolest spots we have but definitely one of the most challenging. Over the last few days, we've had a lot of wind, a lot of rain and especially the waves. I'm used to the wind and the rain where I train, but the waves have just really thrown me off. But it's good preparation for all the divers I think"
We were there for the event, providing custom branded Red Bull Diving World Series dryrobe® Advance change robes for the competitors and support staff. And in these conditions, they were very much needed and appreciated! Aiden spoke to us about how useful they were.

"I think I'm probably most used to these conditions being from the South West of the UK, as all of the other divers are from more tropical locations. And even for me, the dryrobes were great! In conditions like this, especially when you're wet and there's wind, it can be really harsh. So these dryrobes keeping us warm are a great addition to our closet!"


The final of the competition truly lived up to the hype though, with some next-level diving that saw the judges flash their 10 cards a record 23 times and two perfect dives were recorded in a single stop on the tour for the first time ever!
In the women's competition, four-time champion Rhiannan Iffland was absolutely sensational, earning five 10s from the judges (a perfect score) for her third round dive. This was the first time the Australian swept the judges with a perfect score and was the first woman to ever achieve this on the tour! This victory extended her winning streak to 11 consecutive wins on the World Series.
Canadian Jessica took home second place with an impressive performance, with Australian wildcard Xantheia Pennisi coming third.
In a dramatic men's competition, legendary French diver Gary Hunt picked up his 41st career victory, beating off tough competition. Hunt earned three 10s in the second round on Saturday, but his rivals really put the pressure on with some epic performances.
Romanian Constantin Popovici picked up four 10s for his third-round dive, British prodigy Aiden Heslop grabbed two in his final round, further demonstrating his credentials as one to watch in the future, and Carlos Gimeno got the crowd going with a handstand dive that earned perfect 10s from the judges - only the third man ever to do so.
Hunt managed to retain his composure and fought off these impressive challenges to stand on top of the podium, with Popovici taking second place and Italy's Alessandro De Rose taking third place after picking up three 10s in his final round.
Final Results:
Women
Rhiannan Iffland (AUS) – 391.60 points

Jessica Macaulay (CAN) – 343.80

Xantheia Pennisi (W) (AUS) – 338.20

Molly Carlson (CAN) – 316.80

Eleanor Smart (USA) – 302.80

Antonina Vyshyvanova (W) (UKR) – 289.85

Meili Carpenter (W) (USA) – 269.30

Jaki Valente (BRA) – 240.20

Iris Schmidbauer (GER) – 179.75

Adriana Jimenez (W) (MEX) – 110.00
(Photo courtesy of Red Bull Content Pool/Dean Tremi)
Men
Gary Hunt (FRA) – 442.50 points

Constantin Popovici (ROU) – 433.60

Alessandro De Rose (ITA) – 419.55

Carlos Gimeno (W) (ESP) – 395.40

David Colturi (USA) – 393.10

Michal Navratil (CZE) – 378.20

Aidan Heslop (W) (GBR) – 368.15

Steven LoBue (USA) – 343.65

Sergio Guzman (W) (MEX) – 342.95

Catalin Preda (W) (ROU) – 341.05

Andy Jones (USA) – 333.70
(Photo courtesy of Red Bull Content Pool/Dean Tremi)

After the event, Red Bull Cliff Diving World Series Sporting Director and legendary US Olympic diver Greg Louganis spoke to us about the competition and how useful his dryrobe® had been over the weekend:

"Today was incredible! The weather held out, even yesterday the rain didn't start pouring until the last day was done, so we really lucked out. But the dryrobes have been awesome because I would have suffered tremendously coming from California, so I really love my dryrobe!"
You can watch a full replay of the Final Round of the competition over on Red Bull TV.
Photos by
David Pearce
(unless otherwise stated)
Follow Red Bull Cliff Diving
Instagram:
@redbullcliffdiving
Facebook:
Red Bull Cliff Diving
#dryrobeterritory