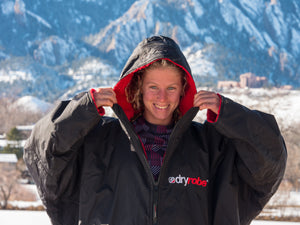 Rea Kolbl - dryrobe Ambassador
We're proud to announce that Rea Kolbl will be joining dryrobe as a brand ambassador for 2019. The professional Obstacle Course Racer and Ultra Trail Runner is a two time World's Toughest Mudder Champion (2017 and 2018), a Spartan Pro Team Member and is undefeated at endurance OCR races 8 hours or longer. We're looking forward to supporting Rea as she takes on a packed schedule of events throughout the year.
Growing up in Slovenia, Rea competed for the Slovenian National Gymnastics Team for 10 years before moving to the US in 2010 for college, where she got in to trail running. In 2016 she discovered Obstacle Course Racing, which blended her childhood obsession with her passion for trail running. Rea fell in love with OCR and she's been tearing it up ever since:
"I believe Obstacle Course Racing is a unique sport that brings together weekend warriors and professional athletes, people with all backgrounds, body types, and from all walks of life. I hope to inspire others to join me in the mud, and to show the next generation of girls that "like a girl" means strong, fast, and powerful."
After completing her Master's degree in Material Science and Engineering at Stanford University in 2017, Rea moved to Boulder, Colorado to focus on her athletic career. Since then she has been on the podium 41 times and taken home 24 victories, including Spartan Beast titles and taking first place at all three Toughest Mudder events in 2018.
Speaking about the partnership with dryrobe, Rea said:
"Most of OCR races involve cold water dunks, mud, and plenty of obstacles to get me soaking wet and muddy even on nice and sunny days. There's always so much excitement after crossing the finish line it sometimes takes me hours before getting a chance to change into dry and warm clothes. I'm so excited to join the dryrobe team and solve the problem of being cold after races once and for all - there's nothing better than putting on a warm, waterproof dryrobe after racing through mud, especially on those cold, and rainy days."
Gideon Bright, Founder & Director of dryrobe commented:
"We're really excited to be working with Rea, her achievements in OCR in such a short period have been phenomenal. Rea's passion and ability make her a great ambassador and role model not just for OCR, but for sport in general. We're proud to be supporting her throughout 2019."
Watch this space for big things coming from Rea Kolbl and dryrobe in 2019!
#dryrobeterritory