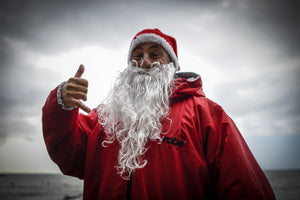 Rad Santa by dryrobe
No snow and no sleigh, but the sickest Santa you've seen yet. 
Remember, a dryrobe is not just for Christmas.
Photos by Olivier Morin 
Warning: dryrobe should never be used when there is a risk of falling into water.
PLEASE USE COMMON SENSE WHEN USING DRYROBE PRODUCTS - BE AWARE THAT FALLING INTO THE WATER WHILE WEARING A DRYROBE WOULD BE A FAR FROM FUN EXPERIENCE AND THERE WOULD BE A SERIOUS RISK OF DROWNING EVEN FOR THE STRONGEST SWIMMER. HAVE FUN BUT BE AWARE OF THE DANGERS, EDUCATE YOURSELF & YOUR CHILDREN TO THE RISKS WITH ALL SPORTING ACTIVITIES.