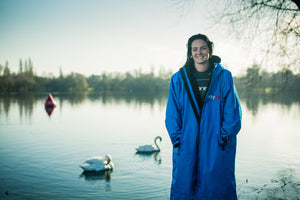 Keri-anne Payne - dryrobe Ambassador
We're extremely proud to announce that two-time 10k open water swimming world champion and Olympic silver medalist Keri-anne Payne has joined team dryrobe as an ambassador.
A competitive swimmer from a young age, at 15 Keri-anne broke the British junior 800-metre freestyle record. In 2006 Keri-anne switched her focus from the pool to the open water with great success, bringing home silver for Great Britain in the inaugural Olympic 10k Open Water Swim at the 2008 games in Beijing. Keri-anne went on to win the World 10k title in both 2009 and 2011 and compete in the 2012 and 2016 Olympic games. She retired from competitive swimming in 2017 having represented Team GB for 12 years.

Keri-anne's successes helped to raise the profile of open water swimming in the UK and inspired many people to take the plunge and try it for themselves.
Since her retirement from competition, Keri-anne has switched her focus to swim coaching and started Triscape with her husband, former Olympic swimmer David Carry. Last year, alongside fellow dryrobe ambassador Ross Edgley, Keri-anne helped coach the celebrities on Channel 4's Sink or Swim, which saw them attempt to swim the English Channel.

Speaking about the new partnership with dryrobe, Keri-anne said:

"My passion will always be in the open water and I love finding new ways to enjoy it, especially with cold water swimming. So when the dryrobe guys asked me to join the team it was a no brainer because it's already an integral part of my routine and kit bag (and should be part of every open water swimmers too!). I also really love how as a British brand they are putting a lot of time and energy into how they can be a sustainable business with a range of sustainable products." 

dryrobe Founder and Director, Gideon Bright added:

"I'm thrilled to welcome Keri-anne to team dryrobe. Her passion for open water swimming and enthusiasm for getting people into the sport makes Keri-anne the perfect fit for dryrobe. We've got some really interesting projects lined up for this year that we can't wait for her to be a part of. Everyone here is excited to be working with Keri-anne as she helps to inspire the next generation of open water swimmers."


Watch this space for some very exciting collaborations with Keri-anne this year…

Follow Keri-anne:

Facebook: Keri-anne Payne
Instagram: @kerianne_payne
Twitter: @KeriannePayne
Photos by James Appleton 

#dryrobeterritory