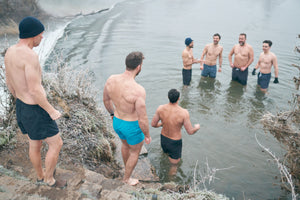 IceBreakers - Men's Cold Water Community
After struggling with personal experiences of depression, anxiety and the loss of a friend who tragically took their own life, Tim, Jack and Arron decided something needed to be done to help men with their mental health. They founded IceBreakers, a UK-based community of men supporting men, using the health benefits of cold water immersion.

We are proud to be supporting IceBreakers as our newest Warmth Project. Tim, one of the founders, has shared how they got started, how their community works and how you can get involved…



IceBreakers is a men's cold water community, it started in October 2020 when myself and the other founders lost a friend to suicide. We created a 'man-kind day' in an effort to help other men. We knew that there was a lot of suffering in silence and we wanted to make a difference, so we gathered in nature and we walked the river. We sat around a campfire and talked openly and honestly. The feedback was clear, that the cold water was an incredible tool to help aid mental struggles and to reconnect with a healthier part of ourselves. The community aspect was also a real temptation.
We began dipping twice a week and the community has grown and grown ever since. We now have over 160 men in the WhatsApp group for the Bath chapter and now we've started in Brighton, Bristol and soon to be in London. The response has been incredible.


The IceBreakers also have a number of socials throughout the year and we host both day retreats and residential retreats. It's all centred around being out in nature, a cold water swim and open and honest conversations. We also recently did a road dip, as we called it, into the Brecon Beacons in Wales where we walked, we had sharing circles and we jumped in the pools of these beautiful waterfalls, then we went for some food and drinks in a nearby pub. Off the back of that, we're going to organise a fire-sharing circle that'll happen more regularly for guys that need a bit more space to talk and to go deeper, which for many of the community is needed.


What makes the IceBreaker experience unique is that we create a warm sandwich around our cold dip. So we walk to our dipping location, usually a river lake or sea, and we stop, stand in a circle and we breathe. We do some breathwork to calm the mind and body. After that, we energise our mind and body with a more active breath and movement inspired by qigong (a Chinese method of meditation and breathe work) which then prepares us for the shock of the cold water.


As we enter the water we show our freshers how to breathe, which is a long slow out breath which prevents the experience from being unpleasant. Then after the dip, which is usually fairly brief, we get out of the water and we do more movement and breathwork that's qigong-inspired and kung fu.

Until we feel naturally warm, which warms us from the core and then we put our dryrobes on, and we drink tea, and we chat. We often share stories and struggles and catch up, and check in. These regular dips mean that we can routinely check in and have these healthy habits which serve the whole community super well. We know for many, that this has become life-changing.


The cold water dipping practice combined with having a sense of community has a huge impact on our mental and physical well-being. Men come for different reasons, some more physical some mental, some just get out the house and have a healthy routine. For some it's like going to the pub where the chats are more open honest and supportive. For some it's like going to church, checking in with Mother Nature and letting go of troubles and washing them way down the river or into the sea amongst a congregation.

Find out more about IceBreakers:
Website: icebreakers.uk
#dryrobeterritory