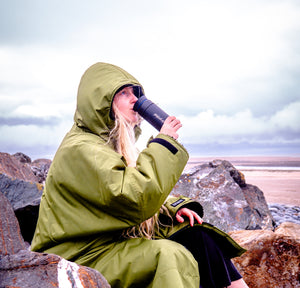 How can a bottle help save the Ocean?
We're so excited to have teamed up with our fellow B Corp friends, Ocean Bottle to create a co-branded, stainless steel water bottle that actually helps save the ocean.

But how can a bottle do that? We explain below.
Who are Ocean Bottle?
Ocean Bottle are a B Corp™ certified reusable bottle brand. A company of ocean lovers and innovators, they are determined to end the flow of plastic into the ocean and share our dedication to looking after the environment that we all love and depend on.

The benefits of Ocean Bottle ripple on with their four pillars of focus:


Ocean health - restoring resources and protecting the precious ocean.
Social good - nurturing everyone who is involved throughout the process, environmental justice is social justice.
Climate action - acting now to protect the planet for a liveable planet for future generations.
Closing the loop - reusing material resources and breaking the linear model of single-use plastic.
What they do
With plastic currently accounting for 85% of all Marine Litter (with views on it tripling by 2040), Ocean Bottle is combating these figures by using the sale of each bottle to fund the collection of 11.4 kg of ocean plastic, the equivalent of 1,000 plastic bags or 1,000 ocean-bound plastic bottles!

The ocean plastic is collected globally, in coastal areas where plastic pollution is worst.
How they do it
The nature-bound plastic is collected by the partners of Ocean Bottle from rivers and coastal waterways before it enters the ocean.

Ocean Bottle works with three chosen partners, Plastic Bank, Plastics for Change, and rePurpose to improve the livelihoods of the waste collections.

The funds from the sale of the bottles are flexibly shared amongst the partners to allow for the greatest impact. People who are collecting the waste are then given healthcare, education, power to drive systemic change, and of course, secure income.
Our shared love of the ocean
By partnering with Ocean Bottle, dryrobe® is also supporting their programme to provide better livelihoods, jobs, social mobility with living wages, and healthcare, whilst also improving ocean health.
How are dryrobe® x Ocean Bottle Brew Flask and Bottles sourced?
Not only does Ocean Bottle remove plastic waste from waterways, but the bottles are also made from 90% recycled stainless steel, BPA-Free plastic, silicone, and ocean-bound plastic.

The environmental impact of this? Its production reduces its reliance on virgin materials (anything extracted directly from nature without processing) and minimises the need to use the planet's limited resources to make the bottle.

By using these recycled materials, the bottle is fully recyclable when it comes to its end of life.

In the meantime, should anything happen to the bottle, Ocean Bottle offers a 10-year repair and replacement scheme, covering you for any accidents!
The durability of dryrobe® x Ocean Bottle Brew Flask and Bottles
Made from double-wall vacuum-insulated stainless steel and recycled materials, it won't leak or sweat and is 100% dishwasher safe.

Shop our dryrobe® x Ocean Bottle products
dryrobe® x Ocean Bottle (500ml)
dryrobe® x Ocean Bottle Brew Flask (350ml)

Follow Ocean Bottle
View their latest impact report
Instagram: @oceanbottle

#dryrobeterritory