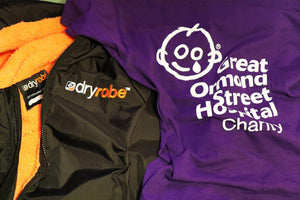 Great Ormond Street dryrobe Change Challenge
We recently had an email come in telling us about an amazing charity challenge that has just been launched to raise valuable funds for Great Ormond Street Hospital. The challenge - changing as fast as possible under a dryrobe! We had to find out more, and take part ourselves of course, so we got in touch with the organiser of the challenge, Nick Molnar, to get the details.
Thanks for talking with us Nick and for setting up such an amazing challenge - can you tell us a bit about why you started it?
In 2012 our two year old daughter Phoebe underwent open heart surgery at Great Ormond Street Hospital (GOSH) to fix a hole in her heart.  During the operation other complications were found but were fixed.  She was closely monitored in the weeks after the operation and now we visit the hospital annually for further monitoring.  She has also helped the researchers at GOSH with their studies on cardiac patients by undergoing several cognitive and mental tests to see the effects of the heart condition.  Since her operation we have always raised money for GOSH by volunteering for them and raising money through sponsorship for our active endeavours.
Nick, with wife Rachel and daughter Phoebe - taking on the challenge
What inspired you to use a dryrobe for the challenge?
I first saw people wearing dryrobes at Tough Mudder and since then a lot of other obstacle course races (OCR) and during the recent RIO Olympics.  I had been talking about them to my wife for a couple of years now and she recently got one for her birthday and now sees what I have been talking about all this time.  I bought one for my daughter for her birthday earlier this month and she loves it and both will be using them on our forthcoming camping holiday and also future OCR events.  It's my turn next to get one.
 I saw a YouTube video with someone changing quickly in a dryrobe showing the product's versatility but it was 'played down' a bit and I thought there must be something in that for a challenge.  Taking inspiration from the Ice Bucket Challenge from a few years ago I thought that perhaps I could devise a similar challenge to go viral.
What's your aims for the challenge, how would you like to see it progress?
It is hoped that the challenge will spread through social media and raise some money and awareness for Great Ormond Street Hospital, as we as a family now do what we can for the hospital as our way of giving back to them.  Phoebe likes the thought that she is helping other children get well. 
We hope that people will embrace what is a pretty fun challenge and enjoy themselves whilst taking part and raising some money for a fantastic cause!
 So the challenge itself is simple - change from one set of clothes to another, underneath a dryrobe, as fast as possible! Nick's wife Rachel set the first record, with a time of 1:34 - so if you beat her time, you donate £2 to Great Ormond Street Hospital, but if your time is slower than Rachel's, you donate £4.
Donating is easy - just text "ROBE82 £2" or "ROBE82 £4" to 70070
Or visit www.justgiving.com/fundraising/goshdryrobechallenge
The dryrobe marketing team took on the challenge at HQ - think you can beat their times?