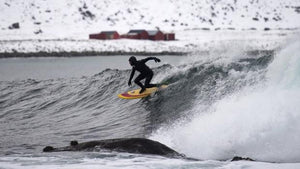 Freezing waves and surf legends in the Arctic Circle
Here at HQ we love to hear about the epic adventures and incredible locations where dryrobe can be found, it always amazes and inspires us to see people keeping warm all around the globe. 
Recently we heard rumours of an epic surf session that happened north of the Arctic Circle, at Unstad in Norway, with none other than surfing legend Tom Carroll. So we did some hunting around and found some photos.
 If anyone can be considered a great of the surf world, then this man certainly can. We found out that Carroll had come to Norway at the invitation of Tommy from Unstad Arctic Surf School, who we have been proud to supply with dryrobes after meeting them at ISPO when we were at the Cold water surfing section with our friends from Carve magazine, along with others, after receiving an invite to be there from Patagonia. 
Add in to the mix the incredibly talented photographer Olivier Morin and this was an adventure that just had to be shared. 
With water temperatures of of roughly 5 degrees C, this was a slightly different climate to Tom Carroll's home of Australia.
With air temperatures as low as 2 degrees C, keeping out of the cold wind and using a  dryrobe to get changed on & out of wetsuits, makes a whole lot of sense.
dryrobe is right at home in Unstad - definitely #dryrobeterritory
 At 55 years old, Tom Carroll still shows the style and skill that won him two world titles
Olivier keeping himself warm between shooting in Norway's icy waves
Tales of the day's surf being swapped next to the campfire
All photos by Olivier Morin
We scoured the internet to group these photos together so a mention must go to the article posted here: http://darkroom.baltimoresun.com/2017/03/arctic-surfing-unstad-norway/  -  check it out for more great photo coverage of the trip.