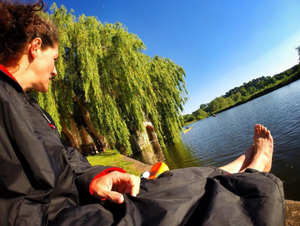 Every season is dryrobe season
We are always asked the question - "Will I use a dryrobe in summer?"   The answer is a resounding Yes!

Summer is always our busiest time. People are getting out and about, doing their thing, enjoying the great outdoors. Whatever it is you do - it's always a good move to take a dryrobe along.

We've been seeing lots of awesome pictures of people getting out there and enjoying themselves - OCR season is in full swing, the ocean is warming up and it's great to see everyone out there and enjoying being active. We picked out a few of our favourite pictures - please keep them coming!
The only way to get dry and warm after a session in the Atlantic Ocean @swipe_and_you_might_miss_me
It might be really warm and sunny, but after a long swim, I still need my #dryrobe to warm up!!! I Always still feel the cold! @belgokatia
First surf lifesaving beach session this evening. What a glorious evening! Love where I live and loving the time outdoors ☀️ @princesssharona2012
Myself & churchy lookin like a couple of Pro's yesty @spartanraceuk 😎  @britishbeard
Practise rounds kicking off 🤘🏽@industrywakeparks @branston118
Happy customers on a CLUB NIGHT! @camelski
We did it! Nuclear Race 12k with 193 obstacles! @danni.kirwan
#Felixstowe swimming community #dryrobe @swimscaper
Shredding in WUD this evening #wakeboardinglife @voitie
Never leave the house without them! @elliehillbilly
It's a real highlight for us to see how much people enjoy using their dryrobes everyday, so please keep them coming! Please remember to tag us in your uploads #dryrobe so we can keep seeing them and if you have a story you think is worth sharing please send it in via our Facebook messenger or email admin@dryrobe.com