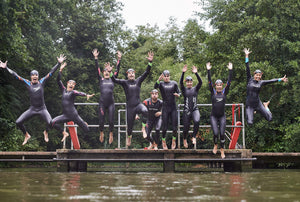 Early Morning dryrobe Swim Adventures
There's something special about waking up early, when it feels like the rest of the world is still sleeping and heading out to make the most of your morning before work starts. Getting out and getting active is one of the most rewarding ways to start the day and can provide a perfect boost to set you up for whatever lies ahead.
Last week a group of like-minded swimmers, triathletes and lovers of the outdoors set their alarms for an early start and met at Hampstead Ponds, one of London's hidden gems, for a dawn swim session. We caught up with them to find out why they think early morning swims are the perfect way to start the day.
Swimming is ideal cardiovascular training - it's a non-impact sport meaning much less pressure on your joints and very unlikely to cause injuries. It's also often used as physiotherapy for recovery.
There are so many adventures to be had when swimming - exploring new places to swim; rivers, lakes, seas, lidos, swimming pools.
Studies have shown that there are links between immersion in cool water and reducing symptoms of anxiety and depression. 
"For me swimming is complete therapy, I feel like none of my worries can catch up with me, it cleanses my mind, it gives me so much energy (I've known to be super hyper at work after swimming at lunchtime)" - Alice Thomas @aliceclarefitness
"The thing I love about open water swimming is that it is the most inclusive and all-encompassing activity out there, it turns strangers into friends and adults into gleeful children.  It doesn't care about age, race, sexuality, gender, wealth, class or anything, the water is a great social leveller and it brings us all together" - Calum Hudson @thewildswimmingbrothers
"Nothing beats those quiet early hours, particularly when it means you are one of the first people to submerse yourself in the water. Just an incredible way to start the day" - Charlie Brown @charliezbrown
"What better way to start the day than to literally dive into nature at sunrise? Get away from city vibes and get a flippin' good workout too." - Kim Hartwell @kimhartwell
"Getting motivated to train can be tough. The alarm goes off, you have had a bad nights sleep, the last thing you feel like doing is getting up to train. Yesterday morning I had no regrets. Swimming with a bunch of like-minded, positive sporty people at the beautiful Hamstead pond was the best way to start the day" - Stephanie Ede @triathlonsteph
"Each of us has the same 24 hours in a day, and it is up to us how we use them. Thanks for reminding me what can be achieved all before 8am. Getting up when it's dark, meeting like minded individuals and getting a sweat on!" - Liam McEntegart @tri_liam
All photos credit: @jamescarnegiephotography