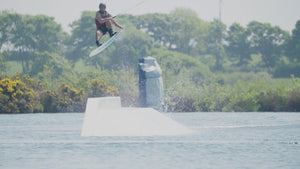 dryrobe x David O'Caoimh
By now you've probably seen our latest video project - featuring dryrobe ambassador and 3 x European wakeboarder of the year David O'Caoimh. 
The plan for the video was to look a bit further than the action and air tricks, and to try to get a glimpse of what it takes to be a full time pro wakeboarder. 
"I think goals are important because they'll keep you focussed, like if you're working on a certain trick or you're working towards something in life"
"At the same time I think it's important to not get wrapped up in the goals and to enjoy the process of doing it, it's equally as important as the end goal."
"Any time you want to go hell to leather with something in life you have to make sacrifices. In my teens I gave up basically every bit of free time, every weekend to wakeboarding"
"It's very important I think to never lose your true passion - the wakeboarding."
"To think that I could earn a living doing something that I'm fully obsessed with, it's actually ridiculously cool."
To follow Dave, check out his social media:
- YouTube
- Facebook
Thanks to the whole team involved with the video - Mikey Corker, Craig Kenny and the crew at North Devon Wake Park.