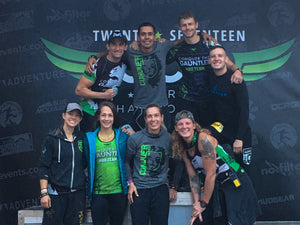 dryrobe Supporting the Conquer The Gauntlet Pro Team
We're proud to support some incredible athletes across a whole range of sports and across the globe. We were seriously excited to team up with our friends across the pond at Conquer The Gauntlet to support their elite team of OCR pros for 2018 - after hearing about the team from good friend of dryrobe Evan Perperis we knew we had to work with these guys.
The team is made up of some seriously awesome athletes, all of them specialists at some of the most challenging obstacles that the OCR has to offer. Keep an eye out for these athletes in 2018 at races all across the US and possibly even a couple of overseas events. 
Ashley Samples from Florida is back on the team for her third year after reaching the podium three times in one weekend at the 2017 OCR World Championships (OCRWC), 1st in 3k 30-39 Age Group (AG), 1st in 15k 30-34 AG and 3rd in Pro Women's Team event. She's not the only athlete on the team to be on performing at such a high level - fellow team members Jay Flores and Evan Perperis both reached the overall podium at world championship OCR events in 2017.
Jay "Captain Puerto Rico" Flores won the Master of the Rig competition at OCRWC beating some of the best ninja athletes on the planet adding another win to his total of 16 podium finishes in 2017.
Evan "Ultra-OCRman" Perperis finished 2nd at the 2+ Team category of World's Toughest Mudder - meaning he finished 1st or 2nd at all four 24 hour OCRs in the US in 2017 (and top ten in every 24 hour OCR in the world between November 2016 and November 2017).
Another athlete familiar to the world podium on the team is Amy "Magic" Pajcic, three time American Ninja Warrior competitor and the only women to stand on the overall podiums of both World's Toughest Mudder and OCRWC.
She is joined by fellow two time ninja and 14x podium finisher Lauren Woodcock who has finished on the podium at eight out of nine lifetime CTGs.
CTG Specialists and the current record holders for most CTG wins of all time are both on the team for their third year, Randi Lackey with 7 wins for the females and Bryce Robinson with 5 wins for the males. Both are trainers in their local gyms and so is undefeated CTG Masters athlete Lisa Nondorf, who is also the 2017 United States OCR Champion for females in the 3k 40-49 Age Group (AG) and 15k in the 40-44 AG.
Nathan "NaPalm" Palmer is back on the team, the current record hold for most consecutive CTG podium finishes (10) and Team Captain from Spartan's Ultimate Team Challenge TV show Season 2.
Joining him is fellow elite athlete from Season 1 of Spartan's Ultimate Team Challenge, Matt "The Mudder" Willis who has finished on the podium of seven different OCR companies.
The rookie on the team in 2018 is male model and 11 time podium finisher in his first competitive season, Jeff Yanda.
Rounding out the team is OCR regulars, Brenna Calvert and Christina Armstrong. Brenna "Red Beast" Calvert finished 2017 with 35 career podium finishes (21 of which were first place) including finishing 2nd at Lebanon's first OCRWC qualifying event which was broadcast live on international TV.
2015 Death Race finisher Christina "Honey Badger" Armstrong is on the team again adding to her 23 career podium finishes - including 2x BattleFrog Extreme wins and a Green Beret Challenge 2nd place.
When not racing the team can be found doing things like training the next generation of OCR/Ninja athletes as part of their job, giving inspiring TED Talks to students promoting Science, Technology, Engineering and Math (STEM), serving in the military, teaching special education or coaching cross country to high school students. More than great athletes, the team is made of great people who are always willing to give a helping hand both on and off the course.
We're excited to be supporting the team this year, they're already well into the OCR season with some incredible results so far across the board and we're sure there's even more to come!
Be sure to check out the Conquer The Gauntlet Pro Team on social media for race updates, training tips and more:
Facebook: Conquer The Gauntlet Pro Team
Instagram: @ctgproteam