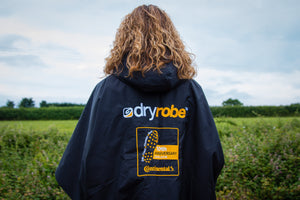 dryrobe Sponsors The 24hr Conti Thunder Run 2018
Exciting news - we're proud to be working with and supporting one of the biggest and best events on the UK running calendar - The 24hr Conti Thunder Run - for their 10th anniversary event on the 21st and 22nd of July 2018.
The Conti Thunder Run is the original 24hr off road challenge. Teams of runners will be taking over the grounds of Catton Park, Walton-on-Trent over the event weekend and competing in an off road relay against the clock, racing over a challenging, technical course for 24 hours straight.
As part of our support of the event, the runners will be competing for more than just the glory and the medals - as winners will also be rewarded with the limited edition, 10th anniversary Conti Thunder Run dryrobe.
Established in 2009, The 24 hr Conti Thunder Run has become one of the highlights of the UK running calendar, with entries constantly selling out well in advance of the event as runners return year after to experience the technical course, camaraderie and amazing memories that event is renowned for. Add in a weekend of classic British summertime weather and this is an event not to be missed.
For more information on The 24hr Conti Thunder Run, head to www.continental-tyres.co.uk/car/company/contirunning