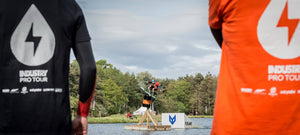 dryrobe Partners Industry Pro Wakeboard Tour
We always say that you will find dryrobe next to the water - our partnership with the Industry Wakeboard Pro Tour is a perfect example of this. The Industry Pro Tour takes the explosive, awe inspiring sport of wakeboarding to the heart of large maritime events and a variety of existing and well attended festivals. The best wakeboard athletes from the British Isles as well as key international riders compete at each stop and put on one amazing show!
The tour is organised by Industry Wake Parks, whose key objective is to grow the sport of wakeboarding within the UK by opening wake parks in new locations and to showcase the sport to new audiences at events and festivals. Using the revolutionary System 2.0 cable rig, it is now possible to install wakeparks almost anywhere there is a patch of water!
The Industry Pro Tour kicked off the 2017 season with an incredible event at the Foxlake Outdoor Festival, at Foxlake Adventures in Dunbar, Scotland. Some of the best wakeboarders in the country converged on the lake and showed why wakeboarding is one of the most explosive and awe-inspiring sports to watch as well as take part in.
After two days of incredible riding and plenty of insane performances along the way, the final results were in, with Matty Muncey taking the win and the bragging rights!
 The next stop on the tour is the Gloucester Tall Ships Festival, taking place on the 27th, 28th, 29th May. This is sure to be an un-missable event as the action continues, with riders competing to claim those all important rankings points - with the rider at the end of the tour who has the most points taking the overall tour win!
The next events on the Industry Wakeboard Pro Tour calendar are: