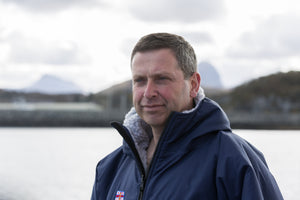 Conquering the Old Man of Stoer with Norman Todd
Norman Todd is no stranger to extreme open water swims. Back in January a video of one of his swims went viral - millions of people watched online as he broke the ice on a Scottish Loch before taking to the water for a dip, with air temperatures at a balmy -8c.
His next challenge was just as epic - he just became the first person to swim around the iconic Old Man of Stoer sea stack on Scotland's stunning West Sutherland Coastline. Norman was taking on the challenge to raise money for the RNLI and he had the Lochinver lifeboat out to assist him during the swim.
'This is the most challenging swim I've done to date - there was 2 metre waves, rocks, reefs and 6.5 degree water temperature. The water still hasn't really warmed up since the winter and it was extremely difficult to access the channel to get in behind the stack. The huge, cresting waves were just pounding over me and it was a real challenge to negotiate my way in without getting pushed up onto the rocks. It was by no mean the longest swim I have done but it was the most technically challenging that I have yet undertaken.'
After conquering the swim Norman was taken aboard the Julian and Margaret Leonard, Severn class lifeboat which is based in Lochinver and was straight back in his dryrobe.
'I was shivering a lot but totally relieved to be back on the boat. The support the crew gave me on the day was incredible. I swim in the sea for fun but RNLI crew go out there routinely to save lives. They are the true heroes of the oceans and we should do what we can to support them.'
So far Norman's swim has raised £1300 with more donations still coming in. Next up for the Scottish open water swimmer is the 24 mile North Minch in July, followed by being a part of an 8 person team attempting to break the world swimming relay record by crossing the North Sea between Shetland and Norway in 2019.
All photos courtesy of Fiona Johnson Photography