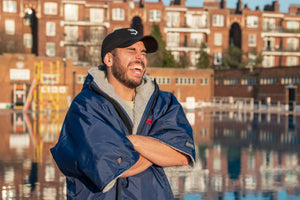 Cold Water Swim Tips - Ross Edgley
Ross Edgley knows a thing or two about swimming in cold water. Not only did he take on the brutal Red Bull Neptune Steps last year, but he also became the first person to swim around Great Britain smashing world records as he went! 
Famed for taking on extreme challenges, including swimming 40km in open water whilst pulling a 100lb tree and completing a marathon pulling a car, as well as the Great British Swim, Ross is also a former international athlete having played water polo for Great Britain. He later moved into academics of sport and graduated from the world-renowned Loughborough University School of Sport and Exercise Science, writing his dissertation on the different strength and power adaptations to various training protocols.
We caught up with Ross at a training event ahead of Red Bull Neptune Steps in London, England and asked him for his advice for anyone starting out swimming in cold water:
1. There is no substitute for the cold water
A lot of people ask me what are tips and tricks to swimming in cold water and I always say "There's no tips and tricks, I'm so sorry to break it to you, you've just got get in there! At some point, you've just got to put your face in!"

To quote Wim Hoff, who taught me about cold water therapy "Mother Nature and the cold, it's merciless, but she's also so righteous."

There's nowhere to hide when you are in there. You can be big, strong and a great swimmer but the cold water doesn't care!
2. Educate yourself about cold water shock
A lot of people when they go into cold water get a shock response, they gasp for air and they immediately say 'Hypothermia!'. No, you've been in 5 seconds, it's not hypothermia you're experiencing cold water shock, that's very normal. "I can't feel my hands!" OK you've been in a minute and what's happening is that all of a sudden your capillaries are vasoconstricting, they're pulling the away blood from your extremities (your hands and feet) and pulling towards your vital organs, you're not actually dying! 

Educating yourself about cold water management means that when the cold sets in you can face it with a stoic, sports science response so you can keep calm, rather than getting in the water and panicking.
(Photo courtesy of Olaf Pignataro/Red Bull Content Pool)
3. Acclimatize as quickly as possible
Use your time to acclimatize quickly as possible in the water, so that then interacts with your biomechanics, when swimming in pacing strategies. 

You may be a good swimmer, but cold water is completely different. When you're trying to swim in cold water that will affect your cardiorespiratory system. All of a sudden you are no longer bilaterally breathing, you're gasping for air every other stroke.
(Photo courtesy of Harvey Gibson/Red Bull Content Pool)
4. Cold management
Some people don't understand that once you get out of the water your body and your core temperature are still dropping, you are still cooling. So people get out of the water and they think they're done and they're not. 

That's the time you need to stick on a dryrobe. During the Great British Swim, I'd get out of the water and sometimes what I would do is start hitting burpees in my dryrobe on the boat! People were like "Are you not exhausted?!" and yeah I was exhausted, but I know my temperature is still dropping, so before I'd get into bed I'd need to warm my core temperature up!
Follow Ross:

Website: https://rossedgley.com/
Facebook: rossedgleywriter
Instagram: @rossedgley
Twitter: @RossEdgley

#dryrobeterritory