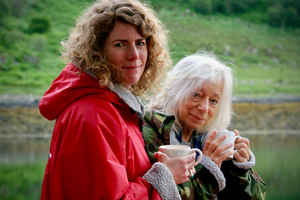 'Chasing the Sublime' - Oprah's SuperSoul Short
When Kate Rew founded the Outdoor Swimming Society (OSS) back in 2006 there was a belief amongst many people that swimming in rivers and lakes was dirty, dangerous or illegal. In the twelve years since the inception of the OSS this has all changed.

Wild swimming has become increasingly mainstream and open water swimming has increased in popularity, thanks to not only the hard work of the OSS and it's growing membership across the globe, but also in part to the exploits of celebrities and sports stars including Ross Edgely's epic world-record breaking swim around the coast of mainland Britain in 2018.

The OSS don't see themselves as a governing body of outdoor swimming, but as a collective that brings together all the different outdoor swimming activities across the world by providing information about where to swim, how to swim safely, and a network people use to find others to swim with, or share their passion for swimming.

Their key values are adventure, joy and challenge - beyond that, there is no real set definition, it can be ice swimming, skinny dipping, marathon swims, wild swims or open water races. The only criteria are that it's done under the open sky and that there's a sense of adventure to it.

This spirit of adventure is captured in a stunning new short film, 'Chasing the Sublime', by award-winning director Amanda Bluglass. The film follows Kate Rew and her 'Swim twin' Kari Furre as they swim amongst the jellyfish of Loch Hourn in the remote West Highlands of Scotland.

Supported by dryrobe, the film captures the essence and physicality of what it feels like to swim through wild (and cold!) waters.

The film has had a great reception and has been picking up official selections at film festivals all around the world including the Mountain Film Festival in Colorado, the Oscillation Transia touring festival, the Ottawa Adventure Film Festival and the Vancouver International Women in Film Festival.

As well as receiving these incredible plaudits, Oprah Winfrey picked 'Chasing the Sublime' to be shown on SuperSoul Sunday, her inspirational weekly chat show! Oprah described the film as the "Soul-stirring thrill of risking a dive into the unknown" and selected the film as her SuperSoul Short to close the show on the 3rd March 2019. Watch the full episode SuperSoul Sunday here.

Check out the full film below:
Chasing The Sublime from Amanda Bluglass on Vimeo.