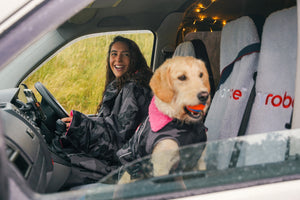 Black Friday - #OptOutside and Choose Quality Over Fast Fashion
At dryrobe®, we have always been about making the world's best changing robes and accessories. This is what we do all day every day, it's that simple.

Short-term discounting doesn't work for us, this is why we don't take part in the Black Friday or Cyber Monday sales. They simply don't suit our business.

We respect and value our relationship with our customers. Our products are built to last, we don't have styles that go out of fashion and if you buy a product from you can trust you won't see it reduced on our website a couple of weeks later.

To us, it makes no sense to discount to make a quick win in sales, as it undermines the value and consistency that we build into everything we do as a brand.


"It's not what we do once in a while that shapes our lives, it's what we do consistently." - Tony Robbins

Black Friday sales may suit some businesses, but we believe that there is a better way towards sustainability than regularly overproducing and then reducing the price for specific sales events. Our planet has limited resources, and much of the time the production of new products leads to high energy consumption, water use and wastage.

Since the beginning, we've made high-performance, industry-leading products and we're proud of what we make and how we make it. We always sell at the lowest possible price while never compromising our standards, so that people can choose good design, quality and durability over fast fashion.


Instead of taking part in Black Friday, for the eighth year in a row, we're going to #OptOutside, shutting down our office and giving all our staff a paid day off to get active in the great outdoors.

We're proud to say that we were the first business in the UK to take this stance back in 2015, following the lead set by REI. Since then organizations across the globe have followed suit, helping to make Black Friday less about consumerism and more about the appreciation of the world around us.


Each year we love to see what our customers get up to if they're able to #OptOutside on Black Friday. If you want to share with us what you're doing on Black Friday on social media, tag us with @dryrobe and #dryrobeterritory.