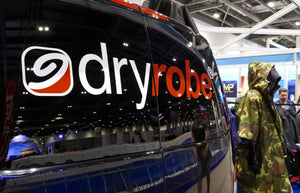 dryrobe on the road
Earlier this month we headed to the Lake District for the Chillswim cross lake swim, the first of their events this year. As you might remember, the weather at the beginning of February was pretty awful, and there was question as to whether the event would even go ahead but luckily the weather cleared a little and it was business as usual.
Spot the dryrobe owners - No Umbrellas needed :)
Colin Hill, the director of Chillswim is an experienced open water swimmer himself, as well as having been the Technical Operations Manager for the Olympic Games Marathon Swimming at London 2012 - so he knows what he's doing! We also got the chance to see Lewis Pugh give a fantastic speech. He is the United Nations Patron of the Oceans, and has pioneered more swims around famous landmarks than any other person in history. It was very inspiring to hear what he had to say.
The event was brilliant all round; this one was a swimming gala rather than a single race. Events included 60m Freestyle, 4 person relay and a 450m endurance swim, as well as the 1000m British Championships. With so many people jumping in and out of the freezing lake, there were lots of dryrobes on show - which is always nice to see.
Here is the video from this year's event:
From there, we headed to London for the Telegraph Outdoor Show which is the UK's largest outdoor activity exhibitions.  It was great, and we were right beside the pool with our biggest stand ever, for what turned out to be a very busy show.
The Telegraph Outdoor Show ran from February 11th-14th, after which we headed immediately to SMMEX, the Sports and Merchandise and Marketing Exhibition at Wembley Stadium. This year was the exhibition's 18th birthday, so it was extended to a two-day event. Unlike the Telegraph show, this one is more business to business, where you meet buyers from various companies; it was a very different atmosphere but still fun and we met some great contacts.
It's great to take dryrobe on the road, as we're so proud of our product - but after a full week inside exhibition centres with air-conditioning and no windows, Got to admit coming home to Devon wasn't all bad.
We've lots going on over the next few months, including Our next exhibition at Swim Expo, Manchester .