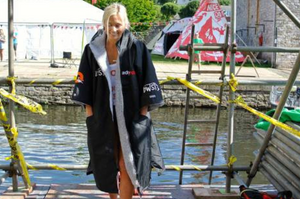 Deep water solo | Climbing UK | DWS Exeter
We have sponsored this event from the start. The past 2 years have been great event and you can see why dryrobe proved to be a very useful bit of kit at one of the most unique and fun events in the climbing calendar.
Routes set by the Blokfest team and a new 'jump to the bell' final format and the finals had a new speed climb element. 
Winners:  Matt Valera Christie - Open Male, Emma Twyford - Open Female, Tom Frost - Under 16 Male and Emily Phillips - Under 16 Female.
The event ran over 4 days, 3 days of competition an open day with the wall opened up to non competitors who wanted to experience it for themselves
The event will be back in 2016
DWS Exeter 2015 version 3 from The Quay Climbing Centre on Vimeo.
DWS 2015 film by Rowan Butler Spear
DWS 2015 Web from The Quay Climbing Centre on Vimeo.
DWS 2014 film by Dimenson 2 films