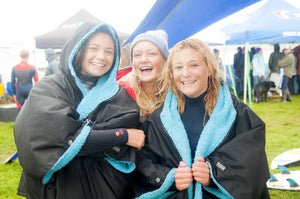 Surfing GB and dryrobe
2016 is going to be a lot warmer for the judges & Surfing GB Staff. They are kitted out with top of the range dryrobe advance.
These guys are putting in some serious hours outside in the elements & helping to fuel the exciting fast growth of British surfing. So it makes sense they shouldn't freeze in the process.
They got the first use at the 2015 Magicseaweed British National Surf Championships supported by Korev Lager October 24th and 25th at Croyde Bay, Devon.
The stormy conditions proved too much for the large contest marque which was upside down as officials arrived before the break of dawn on Saturday, it was soon overturned and business resumed.
Awesome dryrobe Ambassador – Peony Knight made it the double with a win in Womens division & Luke Dillon became the 2015 British Mens open Champion.
 thanks to the legend that is @robTibbles for the photos
Sponsors and supporters including Magicseaweed, Korev lager, Surfdome, Acer Technologies, Aquajuice drinks, Star Surf Camps, The Caravan Club, Billabong, Carve Visionaries, Santa Cruz, 110% Surfing Techniques, Fuel 10k, Billy Budds, The Kings Arms Georgeham, dryrobe, Croyde Surf Club, Christian Surfers, Creation Fest, Redbull, Saunton Hotdoggers, Skylens and the landowners. #BritishSurfChamps @surfinggb
Head over to our website now to see the NEW range of colours & styles available >> dryrobe.com
You can see all of the picture & get the full story from the Surfing GB Blog CLICK HERE