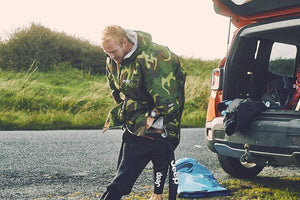 5 Epic dryrobe Moments In 2017
2017 has been an incredible year for us here at dryrobe - full of moments to celebrate, enjoy and talk about. Epic events, crazy adventures and big developments have made this a year to remember! Throughout the year the whole dryrobe community has been incredible - constantly sharing amazing pictures and stories of what you've been getting up to with your dryrobes - thank you!
We wanted to put together a roundup of some of our favourite moments from this year - when it came to deciding which ones to feature this became a bit of a challenge as the team couldn't decide which were their favourites. We decided that we couldn't feature them all but instead got it down to 5 highlights - so check out our 5 Epic dryrobe Moments.
- Red Bull Neptune Steps
We're involved in so many awesome and exciting events throughout the year across a whole range of sports and activities - one that really stands out for us is Red Bull Neptune Steps. A swim event like no other - Neptune Steps  pushes swimmers to their limits by pitting them against a challenging swim up a canal with the added element of multiple climbs up the lock gates on the way to the finish line. The special edition Neptune Steps dryrobe has now become seriously sought after!
dryrobe has been involved with the bitterly cold Glasgow Neptune Steps for the last four years and in 2017 we were proud to also support the Swedish edition - held in Bergs Slussar near Linkoping. One particular name that is always connected with this event is dryrobe ambassador Mark Deans, and for good reason too - he has now won every single Neptune Steps event, both in Scotland and Sweden! We're already looking forward to next year's event - can Mark successfully defend his title for another year?
- The GoPro dryrobe
When we were approached by the GoPro UK team earlier this year about putting together a full custom design, we knew it was one of the projects we couldn't wait to get started on. 
In fact we have a top 3, 'who we want to work with' list and GoPro were right there. (We have been fortunate enough to tick off two of the top three already!) Lets admit it, this was fun & super exciting to work on. Wherever there are outdoor extreme sports you always find GoPro. Such a perfect fit for our brand too. After all, any outdoor sport in the UK is #dryrobeterritory 
Since their first appearance at the English Surfing Nationals the GoPro dryrobe has been spotted across the country and through Europe at some of the most epic extreme sports events out there, on the backs of some of the world's best athletes, who can't get enough of them! We can't wait to see where they appear in 2018, keep an eye out.
 - Cotty's Wipeout
This one is an interesting addition on the list of epic moments - dryrobe ambassador Andrew Cotton's monster wipeout at Nazare, Portugal. In case you were living under a rock and missed the global media frenzy surrounding this - Cotty took one of the most insane wipeouts perhaps ever seen in big wave surfing, getting slammed by the lip of the wave and literally shot through the air by the impact, breaking his back as he landed.
This one's on the list firstly because of how insane the wipeout was, but also due to the huge outpouring of support and well-wishes from the global surfing community - it was awesome to see this from the entire surf world.
Thankfully Cotty is already well on the road to recovery and already planning his return to big wave surfing!
- Poldark keeping warm in dryrobe
This is definitely one of our favourite stories of the year, and got one of the biggest reactions on social media. Poldark is one of our favourite TV shows in the dryrobe office, so it was epic to come across these photos of stars Aiden Turner and Heida Reed keeping warm whilst filming!
We're not sure that we'll be seeing the characters in the show wearing one anytime soon but it's always amazing to see some familiar faces using dryrobes!
- dryrobe Community
 One of our biggest highlights has been the amazing community of outdoor people that love and use their dryrobes all the time. The dryrobe itself has been developed based on feedback from actual users of the product, so always love to see and hear what everyone gets up to using theirs. We get sent so many awesome pictures, plus get tagged with the hashtag #dryrobe or #dryrobeterritory and it's amazing to be able to share this with you all.
2017 saw us hit some big milestones on our social media as well. The brand itself started with a Twitter account back in 2010, so we're really proud to see how far this has all grown since then. We're now at over 32,000 followers on Facebook, 12,000 on Instagram, plus 9,000 Twitter followers. That's a lot of awesome people in the dryrobe community - so thank you to all of you for an incredible 2017!