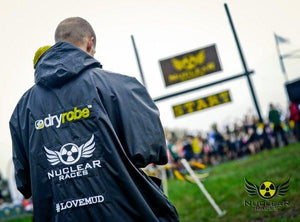 Team GB and OCR Dryrobe News
Team GB – Dryrobe
We have supplied our Dryrobe Advance to some of the world's best athletes in a wide range of sports.
We supplied GB Canoeing Paracanoe team with Team Dryrobes, all branded with the Team GB logos. After first meeting with some of the GB Canoeing staff that instantly liked what they saw, we have sent out the first set of Team GB Canoe kit. A proud moment.
As well as the GB elite triathletes wearing the dryrobe on the world stage, we look like we might be adding to the team GB supply list but again, more to come on that, but we are making them now!
OCR – Dryrobe
The OCR (obstacle course race) Scene has been one of the most exciting areas we have become involved with, Sponsoring the two leading teams in the UK Inov-8 & RPCC. Our friends at Nuclear Races have some very special limited edition, exclusively designed, custom Dryrobes on the way. Available with a FREE Race entry. Check out their website for details. See the offer HERE. But be quick!
Plenty more very exciting news to come on the OCR front, but it's all behind the scenes at the moment. watch the social media for the sneaky snippets of info as they happen.