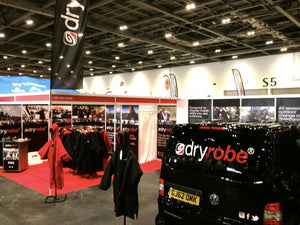 Davina McCall | Sport Relief, Countryfile and Trade show madness | dryrobe
What a start to 2014! Sport Relief 2014 Team Got in contact with us to use our products for Davina McCall's amazing 'Beyond Breaking Point' Challenge – What a monster of a mission that turned into, hideous weather, an amazing achievement.
A surprise appearance of Dryrobe on BBC Countryfile report from the lake District livened up the sunday evening viewing.
We are busy behind the scenes. In between trade shows this week, just back from Triathlon Plus show at EXCEL Docklands, London. A marathon 5 days involvement but a great show. We had Dryrobes being used around the 3 pools at the show, Dryrobes being used by neighbouring stands (as mobile change rooms) & even on Ceepo & Rotor bike stand. Needless to say it generated a lot of interest & we have exciting times ahead.
Next up is the Triathlon Show, Epsom Downs. We Only launched the Dryrobe Advance there last year. Now we're back but beside the Pool (of course ) in the Zoggs Swim Zone, with some branded Dryrobes for the organisers again. So expect to see lots of dryrobe action there this year. After that we have the Manchester Bike & Tri Show. #relentless
New products, deals we can talk about yet that will see dryrobe in some of the outdoor sports world's most prestigious & famous events. We will be at a wide range of events with our stand. We're sponsoring an elite open water swim team along with Torq, Huub, Amphibia & swans & Nuflex, & an OCR Team. We have new ambassadors from multiple sports. Soon to be featured on our website. There is a lot for us to be getting on with & lots of news to come.
The team is growing & the products are evolving all the time. The products are all important. We make the worlds best outdoor change robe. #dryrobe The outdoor change robe™. Keep an eye on our social media & sign up to the newsletter as we have some big product news coming. The new products are at the shows with us, come along, say hello & check em out.