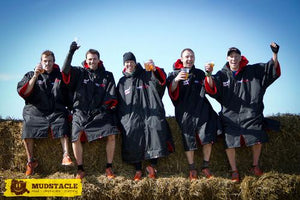 Rock Solid Race OCR Team Inov8 | dryrobe
Following the Nuts challenge it was impossible to see how the team could do any better - Clare still wasn't sure that she'd race as her knee had not healed from the Nuts Challenge and newest member James was in the US. 
It was a 12k race worth 140 points in the Mudstacle league making it the 4th biggest event of the season and our rivals RPCC Elite were out in force. Here's the Great 
race video
. On Mudstacle website.
So the results:
1st Jon Albon inov-8 OCR
2nd Ross Macdonald – inov-8 OCR
3rd Sam Cherry – RPCC Elite
4th Adam Teszke – inov-8 OCR
5th David Hellard – inov-8 OCR
1st Women Clare Miller – inov-8 OCR 
Photos to follow, but will be shared on the team's facebook page, which is well worth a like. 
 The results leave them 1st, 2nd and 3rd in the men's mudstacle league with Jon and James still to come, having yet to score in 3 events and Clare in 1st in the ladies comp by some way.
Team take a big bow!