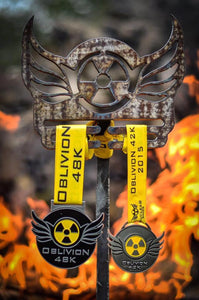 Nuclear Rush
This weekend 8,000 people will take on Nuclear Races multi-award winning event Nuclear Rush hosted at the famous "Secret Nuclear Bunker" in Kelvedon Hatch, Essex. With 50 obstacles to complete over 12km of varied challenging terrain the participants are in for a real test and that's just the standard race! This weekend features Nuclear Rush, Nuclear Onslaught and for the mad/brave there's the 48km Nuclear Oblivion. There is also Nuclear Rookies for children.
We are super excited to be there with the dryrobe tent supporting the event, it's gonna be an epic weekend! 
Nuclear were the first OCR company to order their own custom colour way and branded dryrobes. The distinctive black and yellow with the Nuclear Races logo and hashtag are now a familiar sight not just at Nuclear events but at OCR events worldwide. You really don't have to look too hard, they're everywhere! 
Nuclear Races was created by farmer James Parrish, who was formerly an equal partner of Adventure Race Essex. He decided he wanted to take obstacle course racing to a new level and so Nuclear Races was born. Unlike other events, Nuclear own the land on which they hold the races so they have no limits on how they want to set their courses. The result is a course that's gritty, muddy, wet and challenging but also great fun! Check out the highlights video from last year:
Nuclear Rush is just one in a series of Nuclear events this year. In September there's Nuclear Blast and Nuclear Blackout, and in November there's Nuclear Fallout. So if you feel like a real challenge this year book one or all of these into your race diary! On their website there's an offer where you can buy one of the Nuclear custom branded dryrobes, and you get race entry for free!
#dryrobe #dryrobeterritory #nuclearraces #nuclearrush
https://www.instagram.com/dryrobe/