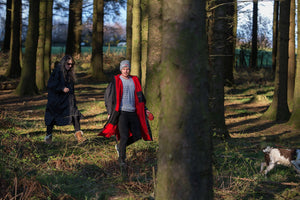 A simple walk in the woods
So it's not all about extreme sports. It's common knowledge spending time outside is all good but its easy to forget just how much of a difference having some quiet time outdoors can make to the way we feel.
We rarely talk to others about our feelings and it seems people have almost become afraid to spend time with their own thoughts, away from the constant distractions we make for ourselves.
When we spend time outdoors we become aware of being alive which can lead us to confront thoughts of our own mortality. The feelings and experiences, as we know them, will stop one day. Is this fear simply too frightening to spend time with?
The fear should be viewed for what it is. These are moments of clarity. They are precious. The fear shows us what we are afraid to lose & makes clear the things we appreciate.
We can feel and let go of this fear. After all no-one knows what follows these life experiences but we should embrace every opportunity to get closer to the clarity of thought that comes simply by spending time experiencing and listening to our own feelings and working out what they mean to us.
Extreme sports and putting your life on the line is one approach but the ability to confront fear, explore feelings and analyse thoughts are easily accessible to all.
Just a simple walk in the woods can be all it takes.
Pictures taken at Wistlandpound. Close to Blackmoor gate, Exmoor National Park. It's a beautiful, tranquil and quiet area, surrounded by conifer plantations and has an established nature reserve. Located near Blackmoor Gate, North Devon, it is an ideal location for walking, angling and bird watching.
featured product: dryrobe advance longsleeve - click HERE for details
#dryrobeterritory photos by Dave Keightley - howaboutdave.com