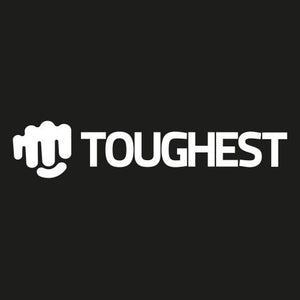 dryrobe at Toughest London
We were at Toughest OCR in London last month as official partners, and boy did we have a good time! The Toughest team really know how to throw a great event!
As it happens, Toughest is an apt name for this event; this Facebook video from the Toughest page details the gruesome course at Pippingford Park. It was definitely not for the feint of heart!
With races like this it's always amazing to see just how many competitors are willing to put themselves through such gruelling tests of their physical and mental strength and by the looks on finishers faces you could tell they'd been pushed hard. Toughest has built its reputation in Scandinavia for putting on some of the er... toughest races going with tough obstacles and even tougher terrain but being in England, they added a new element that we Brits are particularly familiar with - mud and lot's of it!
There was a brilliant atmosphere with the crowd really enjoying watching and cheering on contestants. For a first race in the UK Toughest certainly made their mark on the OCR circuit; this was a brilliant race to watch and dryrobe team member Ben enjoyed running it:
Toughest London was my first serious obstacle course race and it certainly pushed me to my limits! Having not done much OCR specific training before hand I found some of the obstacles pretty tough especially those that required a specific technique like the spinning wheels for instance. I was stoked to make it through all the obstacles bar two and finish the tough course in a time of 1 hour 31 minutes and finish in the top 10% of runners that participated. I definitely think that with some more training and perhaps starting in an earlier wave to avoid traffic at obstacles and churned up course I could greatly improve my time next time around. Straight after I completed the Blaklader wall obstacle, crossed the line and received my medal I ran straight back to the dryrobe tent and threw on my Adult Camo/Grey LS dryrobe. It took only minutes for me to warm back up again and a good thing too as customers were waiting eagerly to buy dryrobes from us so I got straight back to work and by the end of the day we had sold out! It was our busiest and best day for sales at an event we have ever had and certainly the most fun I have ever had at an event also. The Toughest crew organised and executed an awesome event with a great atmosphere and I can't wait for the next event we team up with them for!
The finisher photos featured people holding up a sign saying "I need a bath" and after getting around that course a bath was definitely on people's to do list ASAP! Unfortunately that's not possible when you're in the middle of Pippingford Park but thankfully we were on hand to provide the next best thing to keep you warm and dry and allow you to change into some clean clothes before you can get home for that bath.