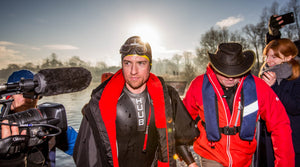 dryrobe - Sport Relief | Greg James & Davina McCall
We started with Sport Relief back in 2014 when Davina McCall did her Sport Relief challenge, Beyond Breaking Point, covering 500 miles in seven days We were asked by the Sport Relief Team to supply our dryrobe Advance product.
The TV presenter Davina McCall had to be carried out of the water after completing a 1.5 mile swim in a freezing cold Windermere as part of her Sport Relief challenge & the Team got her straight into the hotel & into her dryrobe to warm up & recover.
When we spoke to her after the event on facebook she said she had absolutely loved the dryrobe.
This Year 2016 Radio 1 presenter Greg James challenge was a tough one #gregathlon   Greg James challenge was to complete a triathlon a day for five consecutive days, in five different UK cities. This meant covering more than 50 miles each day, and the weather was against him.
We were asked again by the sport relief team & were proud to supply dryrobes for this challenge. It was great to see Greg James & the legendary celebrity trainer Greg Whyte making good use of their dryrobes.
Photos & videos courtesy of Sport Relief
Greg completed his incredible feat in February you can see how he got on in this video:
For a while in the middle there he looked like he was struggling, but can you believe he actually jumped over the finish line on the final day!
So far Greg has raised over a million pounds for Sport Relief and we are incredibly proud to have helped him a little along the way. 
We enjoy sports and a good challenge as much as the next person, but five triathlons in five days? We'll leave that to you, Greg if that's OK. Great Job!
Endurance athletes know that cold is an enemy. Second rule of fit club is - Never get cold. #dryrobeterritory